Winterborne villagers fundraising for speed limit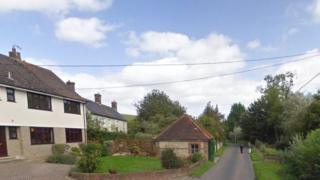 Villagers are raising money to fund their own speed limit because their county council does not have enough funds to implement it.
Winterborne Houghton in Dorset meets the Department for Transport criteria for a 20mph or 30mph speed limit but currently has a national speed limit.
The county council says it can only introduce 20 new traffic orders a year but has a waiting list of 200.
Parish councillor Henry Cole says villagers need to raise about £10,000.
The money would pay for advertising and design, notices in the local newspapers and speed limit signs.
Resident Barry Heathfield said there had been several "near misses" and described the speed at which vehicles passed through the narrow road as "horrendous".
He said: "We get a lot of delivery vans. With the dog and kids coming out of the house, it is a little bit worrying."
'Get done quicker'
Resident and parish councillor Henry Cole said: "We are now looking at methods of fundraising.
"One of the things we are determined not to do it put up the parish rate... because we feel it would be unfair to put the council tax up just for something we really shouldn't be paying for."
Dorset's member for highways, Peter Finney, said: "We only have a small amount of money to undertake the road orders that we have in the county.
"There are 200 cases throughout Dorset which also meet the criteria. We can't afford to pay for all of these orders.
"If the residents wish to pay for it themselves then it would help them get it done quicker."
Mr Finney said the council had a budget of £50,000 a year to pay for such traffic orders, which meant it could complete about 20 a year.
Factors considered when setting speed limits include the types of road users, the road environment and collision history.