Revised Dorchester Prison homes plan approved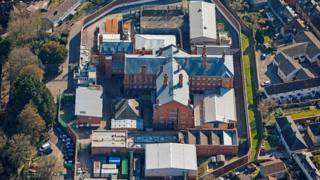 Revised plans to convert a former prison into homes have been approved.
Developer City and Country submitted the new application to turn Dorchester prison into 185 homes after a previous plan for 189 units was refused.
Both sets of plans had been recommended for approval but the previous scheme was refused amid concerns about the impact on neighbouring properties.
Some residents had also objected because the scheme did not include any affordable housing.
The redevelopment will involve converting the main cell blocks and gatehouse into 60 homes, with new buildings accommodating a further 125 properties.
Public hangings
The revised designs sought to address the original reasons for refusal which were the adverse effect on properties in North Square and on the character of the Victorian prison buildings.
More than 200 people complained about the lack of affordable homes in the first planning application, which was turned down in August, but fewer than 50 people responded to the revised proposals.
West Dorset District Council's local plan requires developments to include 35% affordable housing but the authority backed City and Country by saying the scheme could not "financially support any affordable housing" because of the "high costs associated with developing this congested brown field site in a conservation area".
A petition against the revised plans, run by the local Labour party, gathered more than 700 signatures.
Dorchester prison was built in 1885 and shut in 2013.
A number of public executions took place there, including that of Martha Brown, the last woman to be publicly hanged in Dorset.
Archaeologists plan to exhume human remains at the site but a date is yet to be set.