Drug rehab plan for Weymouth guest house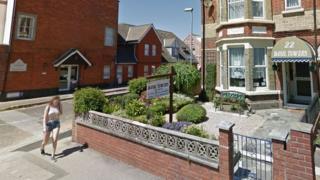 A guest house will be converted into a rehabilitation centre for people with drug and alcohol problems if it gets planning approval.
Dorset County Council has been given funding to buy and convert Basil Towers in Abbotsbury Road, Weymouth, into the residential centre.
Neighbouring guest house owners say they are disappointed by the plans.
The county council said it was already in the process of buying the property and was consulting with residents.
Kim Richards, who runs Warwick Court guest house, said: "I'm very disappointed that it's going in this area and that it's going next to other businesses.
"There are about six guest houses here and there are a few businesses who aren't happy about it. If any guests go on Trip Advisor or social media and say it's next to a rehab place, nobody's going to come back."
Public meeting
Public Health England (PHE) has awarded £620,000 for the facility which will accommodate up to six people.
If planning permission is agreed, the centre will be run by the charity Essential Drugs and Alcohol Services (EDAS).
Its Dorset manager Drew Caldwell, said: "We've already worked closely with other organisations - including the police - to make sure this facility is in the right place and designed in the right way.
"That's why we've committed to staffing the hub 24 hours a day, seven days a week, once it's open.
"We're keen to involve the local community in the design and co-ordination process of the hub, so please get in touch with us if you have any thoughts or concerns."
A public meeting to discuss the plans with local residents is being held at Westham Methodist Church on Tuesday evening.