Lyme Regis Regent Cinema rebuild 'in sight'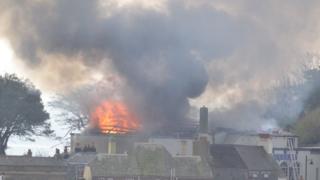 Work to rebuild a 1930s Art Deco cinema wrecked by fire is likely to begin later this year, its owners say.
The roof of the Grade II listed Regent Cinema in Lyme Regis, Dorset, collapsed when the building was engulfed by the blaze in March last year.
Scott Cinemas said it was in the final stages of resolving a "large and complex" insurance claim which had taken longer than expected.
The company said initial rebuild plans had already been drawn up.
The building was extensively damaged following the fire which began following an electrical fault.
A spokesman said trade regulatory bodies would have to be consulted before the plans could progress because of the building's listed status.
Subject to planning consents, it is hoped the building work will get under way later in the year.
---
History of the Regent
The Regent was opened in 1937 by a local cinema operator Donald Hardy, who ran it until the early 1970s
The Art Deco building was designed by Bristol-based architect William Henry Watkins who designed several other cinemas in the south west of England, including the Forum in Bath
It is a Grade II listed building
Originally it had a "Hollophane" lighting system whereby motorised dimmers slowly changed and mixed red, blue and green lights, concealed in troughs
The cinema's original 35mm Phillips DP75 projector has been retained for special performances
Source: Scott Cinemas
---