Weymouth beach dog ban stays despite petitions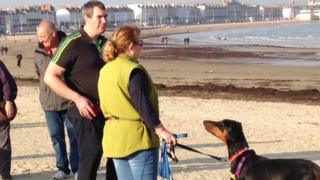 Rules banning dogs from Weymouth's beach for seven months of the year will remain in place, despite two petitions.
Weymouth and Portland Borough Council extended the time dogs were not allowed on the beach from May until September to Easter until the end of October.
Two petitions, both with more than 600 signatures, were presented to a meeting of the full council on Thursday.
The petitions, organised by residents Judi Moore and Linda Stevenson, urged the council to reverse the changes.
A report said the council had already spent money altering the beach signage and to alter it again so quickly "might be considered inappropriate from a financial perspective".
The change, which comes into force this year, extends the ban for up to nine extra weeks per year.
One of the petitions, launched by resident Judi Moore, was signed by 1,150 people.
Weymouth Borough Council said the decision was taken after a public consultation.
In October, hundreds of owners staged a dog-walking protest on Weymouth beach over the new rules.
Following the protest, community protection councillor Francis Drake said: "Members were aware that the majority of respondents wanted the dates to stay the same.
"However, after taking the consultation results into consideration, the Policy Development Committee made the decision to extend the ban."