Owner given 24 hours to shut mini-railway in Poole Park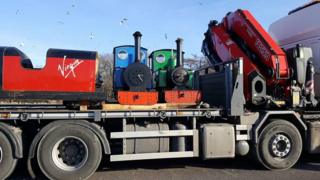 A miniature railway which started running in 1949 has been shut down after a local council ordered the trains to be removed within 24 hours.
Poole Borough Council said the operator's lease to run trains in Poole Park had expired and it would invite bids for a new contract.
It said the 24-hour notice period was "standard".
Operator Chris Bullen said the deadline came as a "shock" and the railway may never be reopened.
'Monster task'
Mr Bullen, who bought the railway in 2004, said he would put in a new bid "in gratitude for a huge outpouring of public support".
He said: "People are in tears. Little boys have skipped school to come and be here and the original owner's 91-year-old wife came in support."
A lorry removed the trains and equipment on Wednesday morning, leaving the track behind.
Mr Bullen said the railway needed expensive safety improvements, including a new bridge and work to move lampposts and trees which were too close to the track.
He said: "It could be the end of the railway. It's very difficult to renew, it's a monster task."
A campaign group, Save Poole Park Railway, launched an online crowdfunding appeal on Monday to raise £68,000 to replace the track.
Donors, who have so far given more than £900, said the railway was a "cherished part of my childhood" and held "wonderful memories".
Poole Borough Council said Mr Bullen had been "aware for some time that his tenancy at will was liable to be terminated to allow the tender process to begin".
Councillor John Rampton, in charge of consumer protection, said the trains had to be removed so that no bidders would be discouraged.
He said the council was "absolutely committed" to having a railway in the park and he was "not in any way fussed who operates it".