Rampisham Down grassland solar farm plans 'shelved'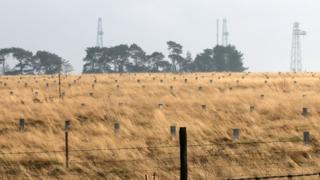 A solar farm will not be built on a Site of Special Scientific Interest (SSSI), a wildlife charity has said.
The 25MW scheme at Rampisham Down was granted planning permission in 2014 but was put on hold by the government over environmental concerns.
Dorset Wildlife Trust said the protected area of rare acid grassland was "of national importance".
It added developer British Solar Renewables had now sought planning permission for an alternative site.
Dorset Wildlife Trust said this adjacent site was not of high importance for wildlife.
The Department for Communities and Local Government said a public inquiry over the original proposals had not yet taken place due to a possible new site being found by the developer.
British Solar Renewables has not yet responded to a BBC request for comment, but previously insisted its Rampisham Down scheme would be beneficial to the local economy and environment.
The application by the company for the 76-hectare (187-acre) solar farm, near land formerly used as a radio transmitter station, was approved by West Dorset District Council in December 2014.
An online campaign by Dorset Wildlife Trust opposing the scheme attracted almost 11,000 supporters.
Simon Cripps, chief executive of Dorset Wildlife Trust, said: "This nationally important wildlife site will now continue to be protected.
"Many conservationists were concerned that if this site was built on, other SSSI designated sites in the UK would be undermined and at risk as a result."