Concern for missing Poole Hospital patient Katie Miles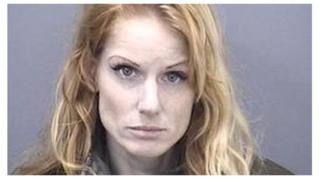 Police have said they are becoming "increasingly concerned" about a woman who walked out of a hospital with an intravenous line in her neck.
Katie Miles, 30, from Bournemouth, was being treated at Poole Hospital on Christmas Eve.
She was reported missing on Christmas Day but has not been found.
Ch Insp Wayne Nock, of Dorset Police, said it would be "highly dangerous" if anyone unqualified attempted to pull the line from her neck.
Ms Miles was last seen at the hospital between 19:30 and 20:00 on Christmas Eve.
She is described as white, about 5ft 3in, with a slight build and blonde hair.
Officers have checked a number of addresses without success.
Ch Insp Nock added: "We are becoming increasingly concerned for the welfare of Katie as she has an intravenous line in her neck for treatment.
"We would ask that anyone who has information about her whereabouts contacts police urgently.
"I also appeal directly to Katie to please get in touch with us. We want to ensure you are safe and well."