Man describes Weymouth 'Christmas lights fire' escape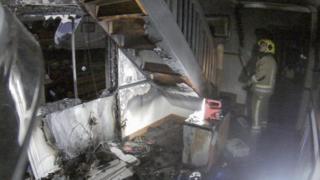 A man whose home was engulfed in a blaze thought to have been caused by Christmas lights has described the moment he jumped from his bedroom window to escape.
James Wiles said he was lying in bed at the property in Weymouth, Dorset, when the fire started.
He said smoke and flames began "filling the room" so he escaped using a duvet to soften his fall.
The fire is thought to have been caused by an overloaded plug socket.
Mr Wiles' two dogs were also rescued during Friday night's blaze in Verne Road.
'Eye-opener'
"I opened the [bedroom] door and just got a face full of smoke and flames so I slammed the door shut," he said.
"I thought I heard the dogs scratching at the door so I opened it again - they weren't there, it was just more flames and more smoke and it just started filling the room really quickly, so I chucked the duvet out of the window and lowered myself down and jumped out, ran round the front and by that time the fire brigade were here to sort stuff out."
Mr Wiles said he would "never, ever" be tempted to overload plug sockets again and described the experience as "a real eye-opener".
The fire is thought to have started in the hallway of the property.
Mr Wiles sustained a foot injury, but was otherwise unharmed. His dogs also escaped the blaze.
An investigation into the cause is under way, the fire service said.