Business host plea for Dorchester's tourist office fails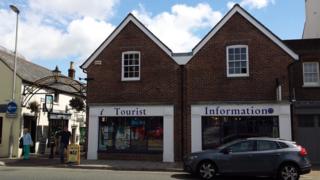 A tourist information centre will be relocated with the potential loss of eight jobs after a plea for businesses to host it failed.
Dorchester Chamber of Commerce was concerned moving the local office from the shopping area to the library would mean it would be no longer visible.
West Dorset District Council has now agreed the move to try to save £80,000 a year.
A petition against the move was signed by more than 1,000 people.
The council started a review of its tourist information service in 2014 to try to save £300,000, including at centres in Bridport, Lyme Regis and Sherborne.
Just more than half of respondents to a public consultation over plans for Dorchester preferred the library option. A second option was to provide an unmanned tourist information point.
The centre, on the corner of Antelope Walk and Trinity Street, sees 170,000 people a year and deals with more than 7,000 phone calls.
The cost of the move is expected to be about £50,000.
Plans to move Bridport's information centre to Bridport Town Council were approved in August.
Decisions over the centres in Lyme Regis and Sherborne are yet to be made.