Duchy plans 100 'Arts and Crafts' homes in Dorchester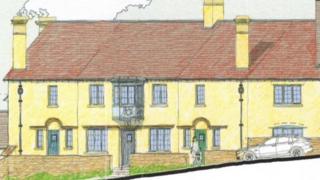 The Duchy of Cornwall is to submit plans for 100 new homes in Dorchester.
The estate, held by the Prince of Wales, wants to build the Edwardian Arts and Crafts-inspired homes on four sites in Fordington.
The Duchy-owned land on the eastern fringes of Dorset's county town had been earmarked for development by West Dorset District Council in 2015.
The estate said it would use comments from residents to refine the plans before submitting them in early 2017.
Affordable homes will make up 35% of the development.
Wetland habitat
The Arts and Crafts movement, which began in 19th century Britain, championed traditional craftsmanship and is often associated with the works of artist William Morris and architect Augustus Pugin.
A Duchy spokeswoman said: "We are working with the local community and stakeholders such as The National Trust and Natural England to shape development plans for 100 much-needed new homes across four sites in the Fordington area.
"The community consultation gave members of the public the opportunity to have their say on these plans, including the creation of a new wetland habitat for wildlife beside the River Frome."
The Duchy of Cornwall's Poundbury development, west of Dorchester, is already home to more than 2,500 people and, when complete, is planned to grow to 2,200 homes increasing the town's population by a quarter.
In September, flats in a block resembling Buckingham Palace sold out before the building was completed.