Climbers stuck on Swanage cliff ledge rescued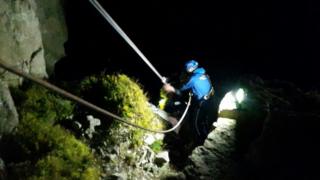 Five climbers have been rescued after they became stuck on a cliff face on the Jurassic Coast in Dorset
A rescue team, which included coastguards and RNLI crews, found the group stuck at the cliff's base at Guillemot Ledge on Wednesday evening.
Cliff rescue teams abseiled down the cliff and brought the climbers up one by one as the sea conditions were too rough for a lifeboat rescue.
It took four hours to rescue the climbers who were all uninjured.
Swanage Coastguard said: "The location is a difficult cliff area - it was a very difficult and technically demanding rescue."
The group were given safety advice by the coastguards.