Plans to triple Taser-trained police in Dorset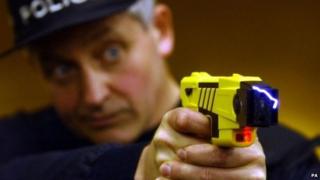 The number of police officers who carry Tasers while on duty in Dorset could more than triple, the force says.
There are currently 83 officers trained to carry the stun guns, but Dorset Police hopes to increase that to 250.
The force said the move was being considered to protect communities and deal with incidents in more isolated and rural areas.
If it goes ahead the increase could be brought in within the next two to three years.
The force has launched a web-based survey to seek the public's views on the plans.
Tony Tester from the Dorset Police Federation, said: "The federation fully support this review. Our stance is that all front-line, public facing operational officers should have the opportunity to carry a Taser."
The force said proposals for the increase were due to go before the chief constable in 2017.