Protest ends as Jurassic Coast oil drilling permit expires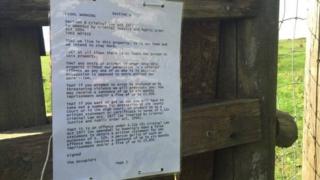 Campaigners camping at a proposed oil and gas exploration site in Dorset are preparing to leave after planning permission for the scheme expired.
Swanage Protection Camp was set up in September at California Quarry, near Swanage, in a bid to halt ground works.
Permission expired on Saturday and campaigners say work has not yet begun.
Opponents of the scheme said they wanted to force a second planning application because they had not been represented during the first one.
Since planning permission was granted, drilling licence holder Infrastrata announced it was divesting its interest to a newly-formed company, Corallian, and no longer intended to carry out the work.
But protesters took it in turns to occupy the site to ensure no works took place that would stop permission expiring.
Campaigner Jason Haiselden, from Swanage, said: "They have achieved what they set out to achieve. It puts us into a position to gather our troops.
"I'm a fairly active person in the local community and we did not find out [about the planning application] until it was too late. Local people weren't represented properly - if there's another one we will be ready to voice our opinions."
The quarry is close to Durlston Country Park, a site of special scientific interest, and lies within an Area of Outstanding Natural Beauty.
The Isle of Purbeck is already home to the largest onshore oil field in western Europe at Wytch Farm. Extraction also takes place at Wareham and Kimmeridge.