'Pull a pine' Christmas tree event draws crowds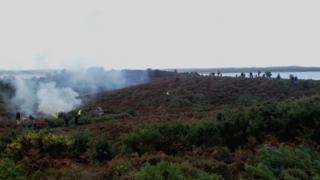 An event encouraging people to pick their own Christmas tree has attracted about 2,500 people.
The annual "pull a pine" event invites volunteers to remove pines from heathland in Purbeck, Dorset, and take the tree home.
Organisers RSPB Arne said removing the pines was "essential" to maintaining the nature reserve as part of its conservation efforts.
The site is made up of open heathland and old oak woodland.
It is home to Dartford warblers, who nest in the heather, nightjars and up to 22 species of dragonflies.