First Dorset bus driver pay dispute settled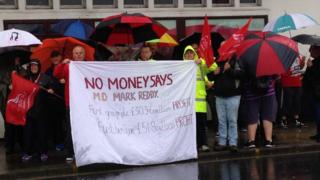 A five-month-long pay dispute involving bus drivers in Dorset has been settled, union bosses have announced.
First Dorset drivers in Weymouth and Bridport have held a series of strikes since June, demanding pay equal with colleagues in other areas.
The Unite union said a deal had been "thrashed out" between First Group, managers, Unite and shop stewards and had been agreed by union members.
A spokesman said the terms of the settlement would not be made public.
Unite national officer for passenger transport Bobby Morton said: "I would like to salute the solidarity that our members have shown since the first strikes in June and without that solidarity we would not have been able to achieve the current deal.
"Unite would also like to thank the Dorset public for its support of our members which sustained them during this difficult time."
Mr Morton said all drivers were now working normally.
First Dorset managing director Marc Reddy said: "We are very pleased that this dispute has finally come to an end so we can focus all our efforts on providing reliable bus services to the communities we serve."
Members of Unite voted to turn down a pay offer from First Dorset last month.
However, the bus company said a new offer had been made during a meeting in London.
The union had said the previous three-year pay deal, worth 8% over three years, addressed some of the concerns but outstanding issues included back pay and overtime rates.
Unite said the previous offer would have raised the hourly rate from £8.80 to £9.50 - the same level as First drivers in parts of Somerset, although below salaries paid by some other firms in Dorset.