Dorset bug find is first UK sighting for 34 years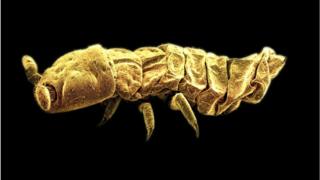 A tiny species of bug has been found in the UK for the first time in 34 years.
The springtail, Megaphorura arctica, was discovered on Chesil beach in Dorset by naturalist and wildlife photographer Steve Trewhella.
The only previous UK record is from a coastal cave on Skomer Island, Wales, in 1979.
Dr Peter Shaw, the UK's official recorder for springtails, said it showed that some UK habitats remained "remarkably unexplored".
Mr Trewhella said he discovered the creature by analysing samples of decomposing grass from the shore of the Fleet Lagoon near Portland.
The 2mm creature, never seen on mainland Britain before, is common in the Arctic, where it survives sub-zero temperatures in a dehydrated state.
Mr Trewhella said he was delighted by the find, his second significant springtail discovery of the year.
He said springtails, or Collembola, were "one of the most essential components" of ecosystems, helping to break down organic matter.
Dr Shaw, who is based at the University of Roehampton, London, said he had been searching for the intertidal creatures for years, and Mr Trewhella appeared to have a "knack" for knowing where and when to look.
He said the find showed there was still much for natural historians to learn about the UK, despite it being the "best-studied country in the world".
---
Springtails
Springtails are thought to be among the most abundant animals on Earth, occupying almost every habitat, with populations of up to 100,000 per cubic metre
Often found in soil or litter, they help to break down organic matter
Considered by some scientists not to be true insects, the wingless six-legged creatures range in length from less than 0.2mm to 10mm
The name "springtail" comes from their ability to "jump" up to 100 times their body length, using a tail-like appendage
There are more than 6,000 species of springtail worldwide
---