Three sex attacks near Bournemouth university 'could be linked'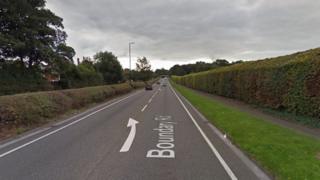 A sex attack on woman near a university campus could be linked to two other attempted assaults, investigators have said.
A woman in her 20s was pushed to the ground and assaulted by a man on a bike on Boundary Road near Bournemouth University's Talbot campus on Thursday.
Dorset Police said they believe it could be linked to two attempted sexual assaults on women in September.
Thursday's attacker is described as white and in his late 20s or early 30s.
Officers said he was approximately 5ft 7in (1.7m), of slight to medium build with short dark hair and wearing a black thigh-length coat and dark trousers.
The victim was walking down a footpath at about 21:40 GMT when the cyclist approached and then assaulted her.
The attacker was riding a dark-coloured mountain bike with silver handle bars and rode off towards Columbia Road after the assault.
Det Ch Insp Sarah Derbyshire said it could be linked to the attempted assaults of women on 13 and 14 September at Boundary Road and Slades Farm.
She is appealing for witnesses.