First Dorset bus driver strikes 'peace talks'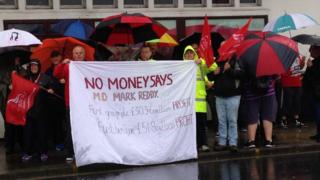 Talks have been held in a bid to end a five-month series of a bus drivers' strikes in Dorset.
Members of the Unite union in Weymouth and Bridport voted to turn down a pay offer from First Dorset earlier this month.
However, the bus company said a new offer had been made during a meeting in London.
Unite said it would now ballot its members to establish whether they would accept the offer.
Senior management from First Group met Unite national officer for passenger transport Bobby Morton.
"This has been a long-running dispute, but I believe we are in touching distance of agreeing a peace plan," he said.
The union had said the previous three-year pay deal, worth 8% over three years, addressed some of the concerns but outstanding issues included back pay and overtime rates.
First Dorset drivers in Weymouth and Bridport have held a series of strikes since June, demanding pay equal with colleagues in other areas.
Unite said the previous offer would have raised the hourly rate from £8.80 to £9.50 - the same level as First drivers in parts of Somerset, although below salaries paid by some other firms in Dorset.
Regional union representative Bob Lanning said an in-house ballot over the latest offer would be held next week, following a "very, very positive meeting".
"I genuinely believe we are there now - obviously the proof is the ballot - but I do see this as drawing the dispute to a close," he said.
First Dorset described the meeting as "productive".
The firm's managing director Marc Reddy previously accused the union of "playing games" but said the bus company remained "absolutely committed" to resolving the dispute.