First Dorset bus drivers begin new 24-hour strike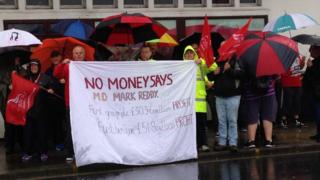 Bus drivers in Dorset have begun a new 24-hour strike in a five-month dispute over pay.
Members of the Unite union in Weymouth and Bridport voted to turn down the latest pay offer from First Dorset earlier this month.
The latest walk-out began at 04:30 GMT with picket lines due to assemble at 07:00.
First Dorset said some routes including the Lyme Regis to Exeter service would not be running.
The union said the three-year pay deal on offer addressed some of the concerns but outstanding issues included back pay and overtime rates.
First Dorset drivers in Weymouth and Bridport voted by a margin of about 70% to turn down the deal, worth 8% over three years, regional Unite officer Bob Lanning had said.
'Playing games'
The drivers held a series of strikes between 20 June and 11 September, demanding pay equal to colleagues in other areas as well as improved terms and conditions.
Unite said the latest offer would have raised the hourly rate from £8.80 to £9.50 - the same level as First drivers in parts of Somerset, although below salaries paid by some other firms in Dorset.
First Dorset, which ran emergency timetables during the summer strikes, said it was "disappointed" by the strike action.
"We remain absolutely committed to resolving this dispute as soon as possible and allow our drivers to revert to what they do best - transporting customers in and around Weymouth," said managing director Marc Reddy.
"However, until the union stops playing games, it is difficult to foresee a resolution in the short term."