Thomas Hardy Dorchester hotel refurbishment approved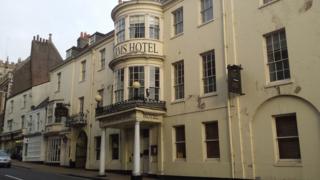 The proposed revamp of a hotel immortalised in Thomas Hardy's novel The Mayor of Casterbridge has been approved by planners.
The Kings Arms Hotel in Dorchester has hosted monarchs and musicians during its 300-year history but closed in November last year.
The independently-run hotel went into receivership in January 2015 before being bought by pub company Draco.
The firm hopes to reopen the grade II* listed building in late 2017.
The re-opening had initially been planned for the spring but delays in the planning process at West Dorset District Council meant the date was pushed back.
Draco director James Brooke-Webb said: "We have started working on construction drawings already and expect to start on site next year. The opening date will be confirmed once we have secured a contractor."
Hardy's Casterbridge was a fictional town based on Dorchester.
The Kings Arms was the coaching inn frequented by The Mayor of Casterbridge in the novel.
According to the Best Western group, to which the hotel was previously affiliated, guests have included Queen Victoria, King George IV, The Beatles and The Rolling Stones.