Paraglider injured in crash on Swanage beach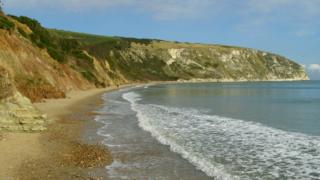 An injured paraglider has been rescued from a Dorset beach where the tide was rising rapidly.
The man was believed to have a back or spinal injury. He was airlifted to Dorchester Hospital.
Coastguards were called in to help on Friday afternoon as the tide was rising and the air ambulance was unable to land on the beach.
The Swanage RNLI lifeboat provided cover while the coastguard helicopter winched the injured man to safety.
His current condition is unknown.