'First time' sunfish washes up at Kimmeridge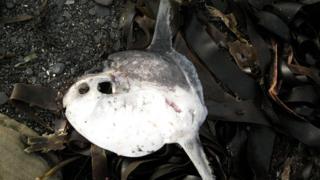 A tropical sunfish rarely seen off the Dorset coast has been discovered washed up on a beach.
The juvenile fish was found at Kimmeridge Bay during a beach exploration by Dorset Wildlife Trust.
The trust believes it to be the first time the fish, which is native to warm, tropical waters, has been recorded washed up in Dorset.
As the find was so unusual the fish has been sent to Belfast for further research by Queen's University.
The trust's Julie Hatcher, who found the 12in (30cm) sunfish, said: "I knew immediately that this was a very special find. It is possibly one of the first such strandings in Dorset.
"It was a rare opportunity to have a really close look at what is a bizarre-looking fish."
The fish, normally found in the open Atlantic Ocean, can be seen in the English Channel during the summer but are rarely spotted in winter because the waters are too cold.
---
Sunfish (Mola mola)
The ocean sunfish is the world's largest bony fish
It can grow up to 10ft (3.1m) and weigh over 2.2 tonnes
The fish swim down to depths of between 164ft and 656ft (50 and 200m)
They feed mainly on jellyfish
Their name refers to their habit of lying at the sea surface on their side as if sunbathing
(Source: Marine Conservation Society)
---