Canford Heath road petition after schoolboy, 7, dies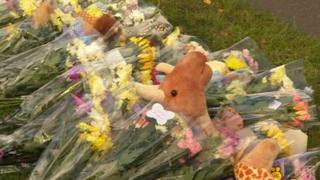 A road where a seven-year-old boy died after being hit by a car on his way to school needs urgent safety changes, residents say.
The boy had been walking to school with his parents in Sherborn Crescent in Canford Heath, Poole, when he was struck. He died in hospital on Wednesday.
Residents have started a petition calling for traffic calming measures including speed cameras and humps.
More than 2,000 people have signed it.
The petition, started by Claire James, states: "The road has become a rat run for drivers.
"I am appealing to get traffic calming measures - speed cameras, speed humps, chicanes, whatever needs doing to make this a safer road for all the residents of Canford Heath."
The boy was struck in the road shortly after 08:00 BST.
Canford Heath East Councillor Sandra Moore, who lives nearby, said: "People are really upset, to have an accident like this on the way to school..... we've got to do something to make sure this road is improved.
"My heart goes out to the parents."
A crowdfunding page set up by friends to pay for the boy's funeral has so far raised £1,600 for his family.
Dorset Police said no arrests had been made following the crash and it was still appealing for witnesses.