Man 'grabbed and dragged by clown' in Bournemouth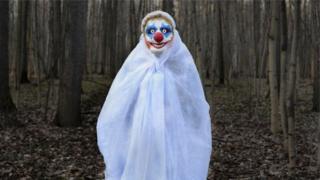 A man was grabbed and dragged along a road by a man who had his face painted like a clown.
The victim suffered a bloodied nose and ripped jeans but was not seriously injured during the attack on Richmond Park Road in Bournemouth, Dorset, on Friday night, officers said.
No arrests have been made.
It comes as dozens of incidents in which pranksters dress as clowns to deliberately frighten people have been reported to police across the UK.
The culprits are said to be following a trend that started in the US.
'Waste of resources'
Dorset Police said it had received reports of "scary clowns" in Bournemouth, Christchurch and Blandford.
Insp Dave Kewley said: "Anti-social behaviour and any actions that cause fear and distress will not be tolerated and could constitute a public order offence.
"Incidents such as these may seem harmless but can be frightening to those who experience it."
He added: "The issues of intimidation, potential arrest and waste of public resources are the same across the country and we would urge people to refrain from such activity."