Dorset County Hospital premature baby services cut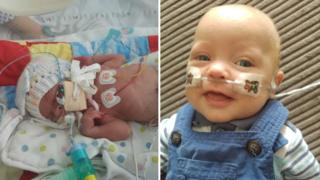 Babies born more than eight weeks early will no longer be cared for at Dorset County Hospital, health bosses said.
Dorchester's Local Neonatal Unit, which treats babies born after 27 weeks gestation, has been re-designated meaning babies born before 32 weeks, will receive care elsewhere.
Campaigners said they felt "really angry and disappointed" by the news.
Dorset Clinical Commissioning Group (CCG) said it would affect about 15 babies a year.
The move follows a recommendation by the Royal College of Paediatrics and Child Health.
The CCG said the change was not related to a wider Clinical Services Review.
Babies born under 27 weeks currently receive care at a regional specialist unit in Southampton.
'Stressful anyway'
In a statement, the CCG said: "Only a small number of babies born between 27 and 32 weeks gestation will be affected by this change.
"This will affect about 15 babies per year, out of a total of 1,900 births at Dorset County Hospital (DCH), and care will be transferred for those very few premature babies to the closest unit with the appropriate expertise, in most cases this would be to Poole."
Naomi Hillier of the Save SCBU, Kingfisher and Maternity at DCH campaign group said: "We've been reassured many times we will have our say at the public consultation... so when the news broke out at the weekend about the change to SCBU we felt really angry and disappointed."
Ayiesha Carter, from Weymouth, whose son Jaxson was born by emergency caesarean at 27 weeks, said the move would cause extra stress for mothers.
She said: "If I had to go any further it would have been horrendous. It's stressful anyway, but if he'd been in Poole I would have had to choose between seeing him and my other children."