Springtail friesea acuminata bug recorded in UK for first time in almost 80 years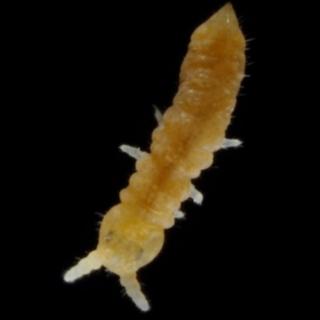 A tiny species of bug has been recorded in the UK for the first time in almost 80 years, according to conservationists.
The six-legged, springtail friesea acuminata was discovered at Kimmeridge Bay, Dorset, by naturalist and wildlife photographer Steve Trewhella.
Dr Peter Shaw, the UK's official recorder for springtails, described the find as "extremely rare and exciting".
It has not been recorded in the UK since 1939.
Dr Shaw, who is based at the department of life sciences at the University of Roehampton, London, said it was last recorded in Swanage and on the Essex coast.
Mr Trewhella added: "It is barely visible to the naked eye - it spends most of its life covered at high tide in little nests, in air pockets under boulders, because it can't breathe underwater."
The critter - which grows to about 1mm (0.03in) long - is usually found in soil so Mr Trewhella described the coastline as "an unexplored no-man's land" which is often overlooked.
"There are so many undiscovered creatures right under our noses, but due to a lack of resources and a demand for fur and feathers, and iconic creatures like dormice and red squirrels, they are going unnoticed," he said.
Mr Trewhella has also recently found the 4mm (0.15in)-long springtail mesentotoma dollfusi species at Chesil, West Bexington, Ringstead and Swanage. It was last recorded in the UK in 2001, in Cornwall.
Dr Shaw, who has been the official recorder of springtails since 2007, said: "Both species are extremely rare and exciting finds - particularly the friesea acuminata - and Steve's work on the shoreline is doing great things to help our knowledge of biodiversity."