Dorset disability care cuts plans announced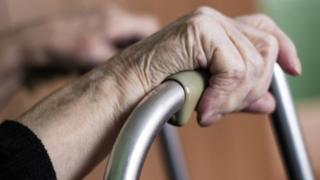 Plans to cut discounts given to disabled people receiving care in later life have been announced in Dorset.
It is one of many options being considered by the county council for social care, along with changes to the way people pay for care and transport offered to those being cared for.
The changes are part of the Care Act which has been brought in by the government, the authority said.
Its proposals will now go out to public consultation.
Dorset County Council currently offers a blanket discretionary subsidy of up to 25% for people receiving care regardless of what other benefits, including disability allowances, they receive.
The new process would be based on individual needs, requirements and ability to pay, the authority said.
'Chasing cheques'
Other proposed changes include giving people a personal budget for transport to day care centres, instead of providing a bus.
Also, making charges for care in advance, rather than in arrears, in a bid to get more people to use direct debit.
The council said there was currently £1.5m of outstanding debt for care costs, with some people left in months of arrears.
Councillor Jill Haynes, head of adult social care, said the authority also spent "a lot of time chasing" people who pay by cheque.
A new board has been created at the council made up of service users with learning and physical disabilities, as well as those with hearing and sight loss, Ms Haynes said.
She added the results of the consultation - a date for which has not yet been set - would be reported back to the board to discover whether the effects of the changes would be "fair".