Row over Eddie Mitchell's Sandbanks pavilion revamp plans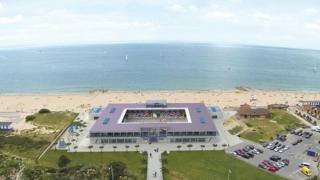 A row has erupted over plans by developer and former AFC Bournemouth chairman Eddie Mitchell to revamp a seaside pavilion in Dorset.
Previous plans to demolish Sandbanks pavilion to create a 2,000-seater sports stadium were turned down.
But a resubmitted scheme to restore the 1920s building and create 16 new beach huts has since been given the go-ahead.
However, some borough councillors are angry the new plans were not discussed by the planning committee first.
Liberal Democrat councillor Philip Eades, for Branksome West ward, has called for the issue to be discussed at a full council meeting later.
"Important decisions like this should not be taken behind closed doors, they should be made by elected councillors in the public arena so everyone can see what's going on," he said.
'Flamboyant building'
The failed application for the 2,000-seater stadium also included a proposal for 44 beach huts.
It was submitted after an original application for a stand-alone 3,900-capacity beach sport venue was previously rejected.
Mr Mitchell described the new scheme as a "watered down" version of his previous applications, which both went before the planning committee.
Poole Borough Council said a "significant reduction" in the numbers of beach huts "had led to the decision to allow the application to be decided by planning officers".
However, Mr Eades argued: "Major alterations to one of our oldest and most flamboyant buildings, on public open space at Sandbanks, can hardly be described as minor."