Bid to protect £8m Butler Family porcelain collection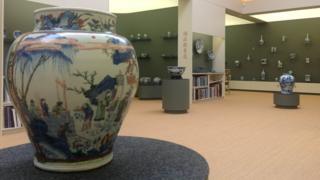 A last-ditch appeal has been launched to keep an internationally-famous collection of Chinese porcelain together amid a family feud.
The High Court ruled the Butler Family Collection should be divided between the heirs of Sir Michael Butler, a former aide to Margaret Thatcher.
But the youngest beneficiary, Katharine Butler, said she had launched an appeal against the decision.
It comes after a previous attempt to urge the Art Fund to help failed.
The charity said it would not "interfere with a legal ruling".
The High Court ruled each of Sir Michael's four children were entitled to take 125 pieces of the 17th Century collection after a family disagreement.
A private museum in Mapperton, Dorset, where the porcelain is housed, will close on Saturday, to allow the £8m collection to be disbanded.
"To be forced to sit there dismantling the collection against my will is a horrible thing to be dealing with," Ms Butler said.
However, if the appeal is successful she hopes to buy her siblings out and put the collection back on display in the museum - which was purpose-built behind the family home in 2010.
"It was our father's clearly expressed wish to keep the collection together," Ms Butler said.
"It's an extremely important collection - the only 17th Century collection of its time, on that scale, in the world.
"To keep it together would be a legacy for generations to come."
She said she was "optimistic" there was a strong case for appeal and said the process meant her siblings could not sell the items until it had concluded.
The collection of about 500 pieces was amassed by Sir Michael, who died in 2012, over 50 years.
Caroline Butler, one of the other beneficiaries, declined to comment.