Bournemouth taxi knife robbery: CCTV images released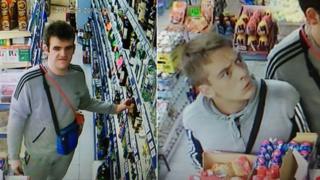 CCTV images of two men suspected of being involved in an attempted knifepoint robbery in Bournemouth have been released by police.
A taxi driver was threatened after dropping off two men and a woman on Lawford Road in the early hours of Tuesday. They demanded money from him.
The driver fended them off with a screwdriver after one of the men lunged at him with a knife.
Police released images of two men seen at Miro off-licence on Wimborne Road.
The taxi driver was not injured. A police search of the area, assisted by a dog unit, failed to find the three.
Det Con Mark Richardson, of Bournemouth CID, said it was a "frightening attack" on the driver.
He said one of the men tried to take a carrier bag of beer from someone outside the off-licence and he appealed for that person to come forward.