Bournemouth Wheels Festival 'very unlikely' in 2017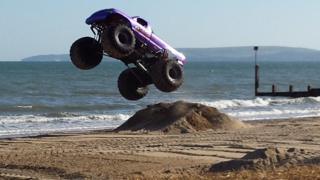 An annual motorsports and extreme sports festival in Bournemouth looks set to end over a lack of sponsorship.
The Bournemouth Wheels Festival has attracted more than one million visitors since it began in 2014.
The borough council had agreed funding for the first three years but Bournemouth Tourist Management Board (BTMB) said no alternative backing had been secured.
A spokesman said a 2017 event was "very unlikely".
The Wheels Festival featured historic and classic cars, hot rods, motorbikes and custom-made cars, as well as extreme sports displays. It was held on the May bank holiday.
As part of a three-year agreement, Bournemouth Borough Council contributed £325,00 to the 2016 event.
A BTMB statement said "significant commercial investment" to supplement financial support from a range of sponsors and exhibitors had not been secured in time to plan an event in May 2017.
Festival director Jon Weaver said: "Despite discussions with potential parties to support the festival and looking at alternative ways of raising funds and reducing costs without undermining the quality of the experience expected of the festival, we are at a point where a Wheels Festival in 2017 is very unlikely."