Call to combat 'soul destroying' flooding in Bournemouth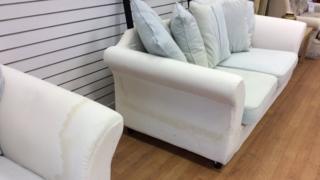 More needs to be done to combat "soul destroying" repeat flooding in an area of Bournemouth, business owners have said.
Several shops have been struck on Wimborne Road, Winton, in recent years - most recently on Thursday when flash flooding left some under water.
Wessex Water said the sewerage system was not at fault and therefore the problems were due to highways drainage.
The borough council said it was looking at various options.
Becky Gollop, of Trussell Trust charity shop which has been flooded twice in the last three months, said: "The shop was in about two-and-a-half inches of water - as soon as I opened the door the water came flooding out all over my shoes, with debris floating in the shop."
Tracey Connor, of Debra charity shop which is currently closed because of water damage, said it had been flooded three times.
"It was like a river here," she said following Thursday's downpours.
"It's cost a lot of money and a lot of stock - it's soul destroying for me and my staff."
Green councillor Simon Bull has called on Bournemouth Borough Council to "urgently address" the issue.
"The current drainage system isn't working.
"A temporary fix would be better than nothing for those losing business and money."
Council leader John Beesley said the town hall's rain gauge measured 50.8mm of rain in three hours on Thursday, against an average rainfall for September of 65.7mm.
"Any drainage system in the world would struggle with that intensity of rain," he said.
He said the authority was in talks with Wessex Water, which is responsible for the sewerage system that connects to the council-managed drains, about a possible "super gully" but added it would only be a "partial solution".
He said another option could be to make businesses "more flood resistant".