Butler Chinese porcelain collection to be divided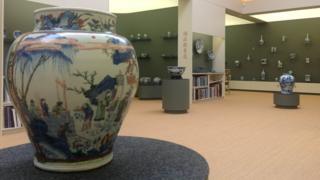 An arts charity says it will not step in to save an internationally-famous collection of Chinese porcelain at the centre of a family feud.
The Butler Family Collection is due to be divided between the heirs of former diplomat and collector Sir Michael Butler following a High Court ruling.
The youngest beneficiary, Katharine Butler, had urged the Art Fund to help save the collection.
The charity said it would not "interfere with a legal ruling".
The collection was amassed by Sir Michael - a former aide to Margaret Thatcher - over a period of 50 years.
Since his death in 2012, it has remained in a private museum behind the family home in Mapperton, Dorset, where it can be seen by appointment.
After a family disagreement, the High Court ruled that each of Sir Michael's four children were entitled to take 125 pieces each. They are set to be divided on 24 September.
Ms Butler launched a petition urging her sister, Caroline, and Art Fund director Stephen Deuchar to help keep the collection together.
An Art Fund spokeswoman said: "The Art Fund helps museums build their collections of art for the widest possible public to enjoy through our programme of grant giving.
"We respond on a case-by-case basis to applications but would not seek to interfere with a legal ruling or private family matter."
Ms Butler said of the ruling to split the collection: "It's like a library of Shakespeare books and someone takes Twelfth Night out.
"I've got loads of letters from academics - absolutely astounded, shocked, devastated at this [High Court] decision.
"I have many experts saying it's unquestionably the best collection of 17th century porcelain in the world. There simply isn't another one like it, it's a disaster."
BBC attempted to contact Caroline Butler but is yet to receive a response.