First Dorset bus strike: Unite union pulls out of talks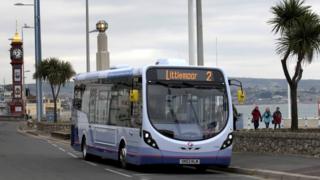 A union representing striking bus drivers has withdrawn from talks over a pay dispute, a bus firm says.
The Unite union had previously agreed to take part in the arbitration talks.
However, First Dorset said the union had since withdrawn which it said was a "very disappointing U-turn".
Unite said its members voted to reject talks because of the "draconian conditions" demanded by First Dorset and has warned further action could run over Christmas and New Year.
The union previously said members wanted the right to vote on the arbitrator's binding decision as they had "no trust" in the bus firm.
First Dorset drivers in Weymouth and Bridport began their first round of action over drivers' pay on 20 June.
The firm said about 60% of its drivers were involved in strike action.
Marc Reddy, its managing director, said this "latest U-turn from the union is very disappointing".
"It's clear that the union had no intention of entering in to a process whereby an independently appointed arbitrator makes a decision on pay, despite publicly stating an appetite to enter arbitration talks," he said.
But Unite regional officer, Bob Lanning, said: "Our members voted overwhelmingly to withdraw from the Acas talks because of the draconian conditions that the management tried to impose before the talks had even begun.
"It is Unite's long-standing view that any deal hammered out at the proposed arbitration talks should be put to a vote of the members, which is normal employment practice."
He said the bus firm also wanted a clause saying there could be no industrial action for three months following arbitration, which he claimed could have lead to drivers being sacked.
The drivers are currently on strike until 23.59 on Sunday, which will see the end of the 12-week mandate for industrial action.
However, the drivers have voted for a further strike ballot to be held which could mean a further 12-week walkout that would include Christmas and New Year, Unite said.
It previously said Weymouth and Bridport drivers earn £8.80 an hour but want it to rise to £9.50 over three years to match the wages of drivers in Yeovil, Somerset.