Bournemouth University's Talbot Campus building plans approved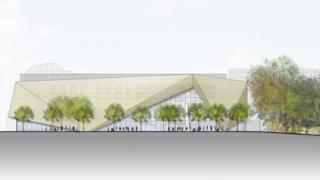 Proposals for a new academic building at Bournemouth University have been approved.
The four-storey Poole Gateway Building at its Talbot Campus on Wallisdown Road will house support facilities for technology and media students.
Construction is due to start in 2017 following its approval by the Borough of Poole. The building is due to be completed by September 2019.
It is part of a £100m programme to expand facilities at the university.
The 5,600 sq m building will provide specialist facilities for the Faculty of Science and Technology and the Faculty of Media and Communication such as TV studios, sound stage, live recording rooms as well as music, games and animation labs.
Jim Andrews, chief operating officer at Bournemouth University, said: "These new facilities will support BU's success in producing highly employable graduates and world-leading research that is recognised across the world."
The development also includes infrastructure work including a roundabout linking to Gillett Road, a bus hub on the western edge of the campus and an extension to the car park.
Local councillor Karen Rampton said: "This will relieve the current pressures on Fern Barrow roundabout, and the creation of the new bus hub will ease some of the bus and coach congestion outside the university entrance."