West Howe house blaze 'caused by cigarette'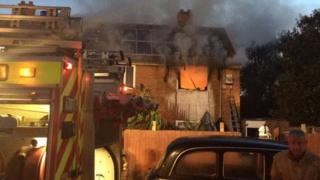 A discarded cigarette was the likely cause of a fire at a house in Bournemouth, investigators have found.
The blaze broke out in the house in Pilot Hight Road in West Howe shortly before 05:30 BST.
Fire scene investigators said the fire started after the contents of an ashtray were tipped into a bin, igniting tissues inside.
Dorset and Wiltshire Fire and Rescue said a family of four escaped unharmed from the house.
The service said the blaze destroyed a bedroom and caused severe smoke damage to the rest of the first floor.
At the height of the fire, flames were seen coming from the first-floor window and huge plumes of black smoke could be seen rising into the air.