IT tutor banned from teaching for two years for 'sexual' emails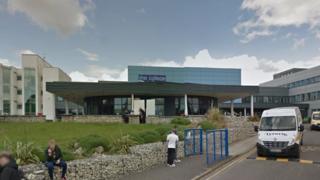 An IT teacher has been banned from teaching for a minimum of two years for sending sexual texts and emails to a student.
Michael Browne, 56, sent the girl texts calling her his "future wife", asking her about her underwear and calling her a "naughty little girl".
The former Bournemouth and Poole College tutor admitted sending the messages to the 17-year-old student.
A disciplinary panel said his conduct brought the profession into disrepute.
'I want to marry you'
The Dorset-based teacher worked at Bournemouth and Poole College for six years.
Friends of Mr Browne's student told the college about the texts and emails in May 2015 and the teacher asked his pupil to delete the correspondence.
He left the college in July last year.
Mr Browne told the student that sleeping with her was on his "bucket list", and said "I want to marry you", making repeated reference to her being his future wife.
He also wrote he would let the student sit on his lap, if he was satisfied with how well she had dusted around the house.
In a professional hearing at the National College for Teaching and Leadership, the panel accepted that references to the student being Mr Browne's future wife could be construed as "light-hearted banter", but other emails contained "an element of sexual gratification".
Mr Browne will be barred from teaching for a minimum of two years, but has the right to have his prohibition order set aside in 2018.