'Gangsta Grannies' complete double cross-channel swim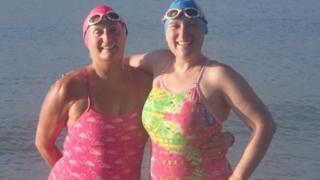 Two grandmothers successfully completed a 42-mile English Channel swim to France and back.
Ali Budynkiewicz, 58, and Lisa North, 48, known as the "Gangsta Grannies", entered the water at Samphire Hoe in Dover, Kent, at lunchtime on Wednesday.
They completed the swim in a time of 31 hours and 28 minutes on two-hour rotation shifts
They said: "We swam through the night and landed in France - turned around and swam straight back."
They added: "The swim was very tough. It really is a very long way, but we swam strong and steady. We feel so chuffed."
'Pork pies and bananas'
The swimmers, from Dorset, said their support team did a great job of keeping them fuelled with rice pudding, pork pies and bananas.
They completed the swim to raise money for a women's refuge supported by Bournemouth-based charity BCHA.
During the swim the pair were stung by jellyfish and encountered pods of dolphins and seals.
The Channel Swimming and Piloting Federation (CS&PF), which authorises and supports attempts, is due to formally ratify the timings.
Kevin Murphy of the CS&PF said it was believed to be the first time a team of two had completed the double crossing.