'No refunds' over washed out Kaiser Chiefs Bournemouth gig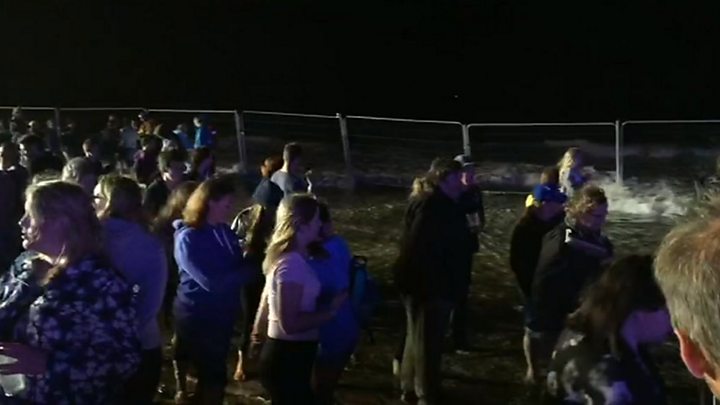 Concert-goers will not be refunded after a gig featuring the Kaiser Chiefs had to be abandoned when the high tide flooded the arena, officials have said.
The band was due to play at Wave 105's Night Air on Bournemouth beach on Friday, as part of the resort's four-day annual air festival.
Event wristbands cost from £12 each.
Bournemouth Tourism, which organised the event, said 80% of the gig did go ahead and no refunds would be made "as per the terms and conditions".
About 5,000 fans were left disappointed when the beach arena was evacuated as the sea encroached into the audience area, which organisers said happened due to "a combination of exceptional wind and sea conditions".
A spokeswoman said the circumstances for the cancellation of the gig were "beyond the council's control".
"Despite the disappointment of Kaiser Chiefs not performing, 80% of the concert did still go ahead including a 40 minute set by Travis, one of Britain's biggest bands of the last 20 years," she added.
She said only the beach side perimeter fencing had been damaged but the stage, pit barrier and backstage had all been "at risk of being compromised".
No decision has yet been made on the future of the event but "a full and comprehensive debriefing of all elements of the air festival" would be carried out over the next few months, she added.
The Leeds band posted an apology to fans on Twitter.