Blandford Cemetery wall and chapels listing bid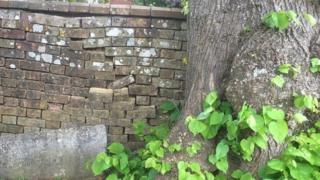 A bid has been made to list a Victorian cemetery wall under threat of demolition, along with two chapels.
The boundary wall at Blandford Cemetery, Dorset, had been due to be replaced with a fence after it was deemed unsafe, the town council said.
It said the work had since been put on hold after an application was made to Historic England to list the wall and the cemetery's two chapels.
Local resident Madeleine Bridle said the wall was "integral" to the town.
The wall, which was built in the mid 1800s and borders some residential properties, has been damaged by the roots of several lime and sycamore trees, which are subject to tree preservation orders, Blandford Town Council said.
The plan was to replace the wall with a wooden fence at a cost of £13,525 - some of which would be offset by the sale of the bricks.
"Why should we sell town property?" Ms Brindle, who lodged the application, said.
"We don't want a fence replacing this beautiful 19th Century brick wall.
"It is integral to the character of the town."
A council spokeswoman said it had to "strike the right balance between the preserved trees, the wall and the budget".
Ms Brindle also wants two chapels to be listed at the site, one of which is now disused but was previously a morgue.
The council said a previous attempt by the authority to list the chapels, following an arson attack in September 2013, failed.
Historic England said it would assess the application as swiftly as possible.