Charges introduced at Dorset household waste recycling centres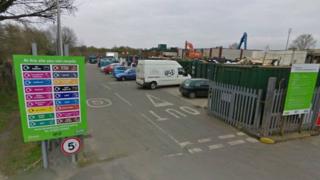 Charges are to be introduced at Dorset's waste recycling centres as part of cost-saving measures.
Plasterboard, tyres and soil are among the items for which charges will be made from the start of September.
Dorset County Council said the "modest" charges would reduce the cost of processing non-regular household waste.
It said it would be "keeping a close eye on reports of fly-tipping", although it did not anticipate a rise in illegal dumping.
Under the new measures at the centres, run by Dorset Waste partnership (DWP), a car tyre would cost £5 to recycle and a sheet of plasterboard £10.
Councillor Tony Alford, chairman of the DWP Joint Committee, said charges applied to materials which were relatively expensive to recycle but were not regularly dropped off by residents.
"Rather than remove the facility to accept these items entirely, we are providing a compromise that will maintain convenience for the public but also save money for our partner councils."
"Funds raised from these charges will allow us to process those materials without passing the cost on to the taxpayer," he added.
DWP is overseen by a joint committee made up of councillors from Christchurch Borough Council, Dorset County Council, East Dorset District Council, North Dorset District Council, Purbeck District Council, West Dorset District Council, and Weymouth and Portland Borough Council.
Its staff are employed by Dorset County Council.