Dorset County Hospital requires improvement, says CQC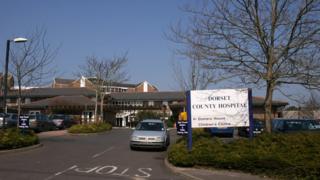 Dorset's County Hospital "requires improvement", particularly in end of life care, a health watchdog said.
The Care Quality Commission (CQC) found there were not enough consultants for end of life care across the hospital.
It also said there were not always enough nurses, doctors, midwives and therapists with the right skills to provide safe and effective services.
The Trust said it had "work to do" but was proud of its "tireless efforts" to provide the best care to patients.
Children's and young people's services, medical care, surgery and critical care were all rated good.
But the CQC said the trust was still working towards a full seven-day service, and that a formal "hospital at night" team was not yet in place.
Patient flow through the hospital and the number of available beds also needed addressing, with bed occupancy at the hospital "consistently above the England average".
"Although we found there was a commitment to provide safe care and to improve performance across the trust, this had not yet been achieved. In particular, the board was not properly aware of the improvements needed in some services such as end of life care where areas for improvement were identified two years ago", inspector Edward Baker said.
In a statement the hospital said it had began acting on the recommendations made by inspectors and was confident that its efforts would be recognised in future visits.