Children 'taken ill after River Stour swim' in Dorset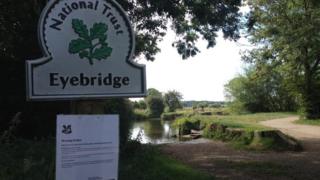 A number of children have been taken ill after swimming at a popular beauty spot.
More than 10 children and two adults are believed to have contracted a sickness bug after being in the water at Eyebridge near Wimborne, Dorset.
The National Trust has since put up warning signs and tests are being carried out on samples of the water.
Spokesman Tim Turner, said the charity had received reports of at least one child becoming ill after swimming.
"Eyebridge is a beauty spot and a lot of our visitors enjoy picnicking around the area, though we don't encourage any sort of swimming," he said.
He added: "[At] this time of year the water level does drop significantly and that can cause a rise in the pollution levels."
'Clear water'
BBC reporter Luke De Costa said he and his partner became ill about four hours after swimming at Eyebridge and were unable to attend work the next day.
"I felt nauseous, physically drained, had a headache and loss of appetite - it was awful," he said.
Wendy Richardson, from Bearwood, said her nine-year-old daughter Lola had also been ill during school holidays after taking a dip at the site.
"Within 36 hours she started vomiting and she vomited for 10 hours," she said.
She added up to 10 of other children she knew had also been sick after swimming in the river.
"It's a stunning location - the water is as clear, as clear can be, and so many people were swimming in it - I was never worried about it at all," she added.
Public Health England (PHE) said it had not received any reports of illness at the site, but said swimming in rivers and lakes can cause gastrointestinal infections, as well as respiratory, skin, ear and eye infections.
"These open water areas can contain sewage, livestock contamination and pollution from farming and industry," a spokeswoman said.