Unite union calls for talks over First Dorset bus strike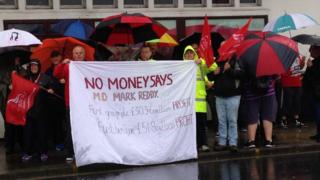 A union locked in a dispute with a bus firm over drivers' wages says it has offered to hold talks to end strike action.
Unite is supporting more than 100 drivers in Weymouth and Bridport, Dorset, who are preparing for an eighth week of action.
The union said it had contacted the conciliation service Acas on Thursday.
Bus firm First Dorset said it was "pleased" with the move and urged the union to suspended strike action.
Both parties have previously claimed they have invited the other to join them at formal arbitration as a means of resolving the dispute.
Unite regional officer Bob Lanning said the talks offer "should finally put the nail in the coffin of misleading claims by the company that Unite is not prepared to go to arbitration".
"We have always been prepared to go to arbitration as long as any package hammered out under the auspices of Acas is put to the drivers, which is normal industrial relations' practice," he added.
"The ball is now in the company's court."
Marc Reddy, managing director of First Dorset, said: "I'm pleased that union officials have finally showed a willingness to enter arbitration talks.
"Given this positive development, I'd urge Unite to suspend strike action, give our customers and holiday makers some respite and enable talks to take place without undue pressure."
The first round of action began on 20 June and the union said the next round - from 04.30 BST on Monday until 04.29 on 22 August - would still go ahead.
First Dorset has previously said the pay increase demanded by striking drivers is "unaffordable".
Mr Lanning had said Weymouth and Bridport drivers earned £8.80 an hour and wanted this to rise to £9.50 over three years, to match the wages of drivers in Yeovil, Somerset.
First Dorset said the firm was providing more than 90% of its services and running an emergency timetable during the dispute.