Dorchester Prison 189 homes plan refused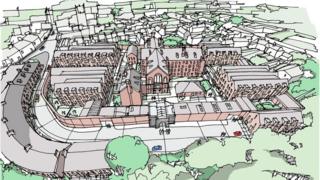 Controversial proposals to turn a former prison into 189 homes have been refused by councillors.
Developer City and Country, which was behind the plans for the former Dorchester Prison in Dorset, said it was "disappointed" by the decision.
More than 200 people objected over the lack of affordable homes on the site, which closed in 2013.
West Dorset district councillors turned down the application, which had been recommended for approval.
City and Country associate director Richard Winsborough said the company would assess its options.
He said: "We are committed to delivering proposals that preserve the heritage of this site, are viable, and meet the aspirations of the community and elected representatives.
"It is extremely important to us that these buildings do not deteriorate any further, and a new sustainable, beneficial solution is found for them."
West Dorset District Council's local plan requires developments to include 35% affordable housing.
A viability assessment carried out for the council said City and Country was expected to make an 18% profit of more than £11m against development costs of nearly £62m, but it backed the developer's claim that the inclusion of affordable housing was not viable.
As well as the public outcry over the plans, Dorchester Town Council and Stinsford Parish Council had also urged planners to reject the scheme.
The authority has more than 1,050 households registered as being in need of affordable housing.