Highcliffe TV show beach huts plan scrapped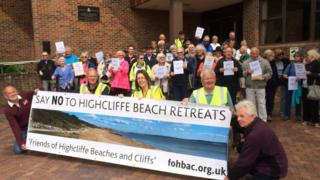 A plan to build designer beach huts on an "unspoilt" stretch of coastline for a TV programme has been abandoned.
Plum Pictures had applied to build 12 huts at Highcliffe, Dorset, as part of a competition for the Channel 4 show Amazing Spaces.
But more than 1,400 people signed a protest petition and MP Christopher Chope told Parliament the area was an "amazing space because it is unspoilt".
Christchurch Borough Council said Plum Pictures had pulled out of the project.
The council had agreed with the production company to invest £130,000 to "procure 12 overnight beach huts of an innovative and creative design style, publicised to two million viewers in the UK".
It said it would recoup the investment within two years from rent.
But more than 1,400 people signed an online petition which said the huts would "get rid of the last bit of natural coastline" in the area.
In July, the Conservative MP for Christchurch, Christopher Chope, told the House of Commons the huts would "despoil" the cliff-top view.
The borough council later proposed to make the huts smaller and ban the use of them for overnight stays, while filming was postponed until 2017.
Chief Executive David Mackintosh said he was "disappointed" that an "innovative way of helping to regenerate Highcliffe" would not go ahead.
The authority said a scrutiny committee would review the council's decision making during the project.
Jo Pollen, from the campaign group Friends of Highcliffe Beaches and Cliffs, said: "It's excellent news but we don't know whether the council will try to revive the scheme outside of the TV programme."
In a statement, Channel 4 said: "Plum Pictures have this week informed us that due to Christchurch Borough Council being unable to deliver the originally agreed use of the proposed site they are, with regret, having to discontinue the project at that location."