Drugs and not enough staff lead to Portland prison unrest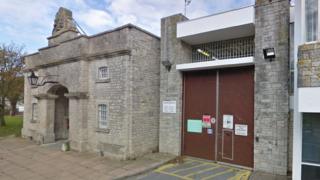 Illicit packages thrown over the walls of a prison are fuelling gang activity and violence, a report has found.
It said "a lot of parcels" containing mobile phones and drugs were intercepted at Portland Prison, but many had found their way inside.
Trading in smuggled goods had led to debt, bullying, and pressurising of inmates' families, an independent monitoring board (IMB) said.
The Ministry of Justice said safety was a vital part of its reform plans.
'Enormous challenges'
In its annual report to the government, the IMB was particularly critical of staffing levels, saying there was "absolutely no give".
It said the situation had led to "unrest, high self-harm levels, poor communication and low staff morale".
The board, however, commended staff, who it said faced "enormous challenges".
It said any staff sickness resulted in "too many prisoners behind their doors for too long".
A Prison Service spokeswoman said: "As this report recognises, staff at HMYOI Portland should be commended for their determination in providing a safe and decent regime despite the challenges they face.
"Safety in prisons is fundamental to the proper functioning of our justice system and a vital part of our reform plans.
"As the Justice Secretary has made clear, there are a number of factors including the availability of psychoactive substances in prisons which must be tackled in order to make our prisons safe and places of rehabilitation."
According to the Ministry of Justice's website, the 580-capacity prison takes young offenders with sentences under 10 years and adult category C prisoners with sentences shorter than eight years.