Woman injured in Grimstone crash back in the saddle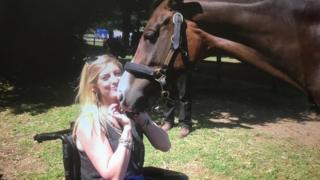 An equestrian event rider who suffered severe spinal injuries in a car crash more than a year ago has been able to ride again for the first time.
Jemima Green, 27, from Beaminster in Dorset, was a passenger in the fatal crash near Grimstone last May.
Her friend, Louiza Covey, and another man, Steven Cook, were killed.
Now Ms Green is back in the saddle and has taken her first steps with the help of mechanical legs that enable her to stand upright and move forward.
Following the crash, which also seriously injured two fellow passengers, Ms Green spent seven weeks in intensive care and underwent three operations, including one on her fractured spine which left her dependent on a wheelchair.
Snowdon Push
Since then she has been trialling a robotic exoskeleton which is controlled by her hands and upper body, enabling her to walk.
"It's amazing. From day one I decided I wanted to get as physically fit as I can be and I have found the exoskeleton great for aerobic exercise, for getting the blood flowing and building bone density, and for balance," she said.
"That's important to me because I want to work on core strength and balance for horse riding. It's a really good form of exercise for me."
Ms Green was able to try the pioneering equipment after her solicitor put her in touch with specialist Hobbs Neurological Rehabilitation, which uses the exoskeleton developed by Esko Bionics.
She has now signed up to the Snowdon Push - a challenge that will involve her family and friends hauling her in her wheelchair to the 3,560ft (1,085m) Welsh mountain summit.
The event is aimed at raising money for the spinal injury charity Back Up Trust.