Anglo-Irish legal battle over Poole foetal alcohol boy, 10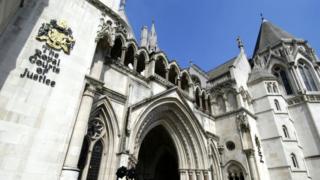 A boy born with foetal alcohol syndrome is at the centre of a legal row between Irish and English courts.
The 10-year-old, whose adoptive family say they are struggling to cope, was adopted in Poole before the family moved to Dublin seven years ago.
His adoptive family brought him back to England to seek "intervention" due to many behavioural issues, "stretching the family to breaking point".
His family worry he would be "bounced around" the Irish social services.
'Life chances very poor'
The family are now appealing to English courts for the boy to be treated by UK social services, but as the boy is an Irish citizen the case has to be heard in the courts in Ireland.
The boy and the family cannot be named for legal reasons.
The boy's birth mother drank alcohol and used heroin during her pregnancy, causing the child to develop ADHD and a number of alcohol-related developmental disorders.
At the High Court Family Division in London, Mr Justice Baker said: "Unfortunately [the boy's adoption] placement... has been beset with serious difficulties.
"In particular, his parents have struggled to manage his behaviour."
Mr Justice Baker added the family said the child's "life chances would be very poor" if he were placed in the foster care system in Dublin.
'Potentially traumatic'
"It is clear from the documents included in the court papers that [he] has demonstrated particularly challenging behaviour," he told the court.
"[His adoptive mother] reported that they were aware of the potentially traumatic impact on [him] but felt they had no other option as their family was at breaking point."
The child has been placed at a residential unit in England pending the outcome of the court hearing, which will now be heard in Ireland.